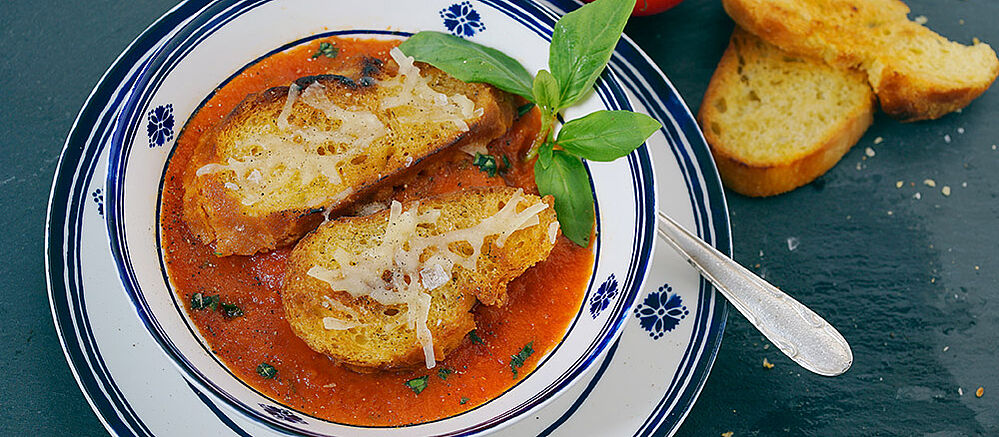 Venetian tomato soup
Venetian tomato soup

Ingredients

4 onions

4 garlic cloves

1 can ORO di Parma chopped tomatoes (425 ml)

1 can ORO di Parma strained tomatoes (400 ml)

1 l vegetable bouillon

Fresh basil leaves

1 ciabatta bread (or baguette)

150 g parmesan cheese

"Extra vergine" olive oil for frying

1 pinch sugar

1 pinch cayenne pepper

Salt and pepper from the mill
Step 1:

Preparation

Ingredients:

parmesan, onions, garlic, ciabatta, basil
First, have your stock - whether homemade or bought - ready for use, and grate the parmesan. Then start chopping: first, finely chop the peeled onions and garlic, then cut the ciabatta into approx. 1 cm-thick slices, and finally chop the basil as finely as you can. You can set a few basil leaves aside as decoration.
PASSATA
Instead of using the passata rustica, you can also use ordinary passata for the Venetian tomato soup. Passata with herbs is also ideal for other variations of this soup.
Step 2:

Simmering

Ingredients:

Olive oil, chopped tomatoes, bouillon, passata rustica, salt, pepper, cayenne pepper, sugar
Bring the olive oil to a medium heat in a saucepan. Sauté the onions and garlic. Don't forget to stir! Gradually add the chopped tomatoes and bouillon, followed by the passata rustica shortly afterwards. Now add salt, pepper, cayenne pepper and sugar. Now leave the soup to simmer for about ten minutes. Stir occasionally.
Step 3:

The ciabatta

Ingredients:

Ciabatta, olive oil
While the soup is simmering, you can turn your attention to the ciabatta. The basic bread recipe consists of wheat flour, wheat sourdough, yeast, salt, water and olive oil. There are also many variations, such as with dried tomatoes, olives or herbs. Ciabiatta is typically Italian - and not that old. It was not discovered until 1982 by the Italian miller Arnaldo Cavallari in the Veneto region - as an Italian counterpart for the French baguette. However, there were already very similar recipes in use before then. Caballero based the name more on the appearance of the bread than its taste: ciabatta means "slipper".
Step 4:

The final

Ingredients:

Basil, salt and pepper, ciabatta slices, parmesan
Mix the basil into the soup. Now season with salt and pepper. Poure the "Zuppa di pomodoro" into soup bowls, place the ciabatta slices onto the soup, sprinkle over the parmesan and decorate with basil.
Buon appetito!