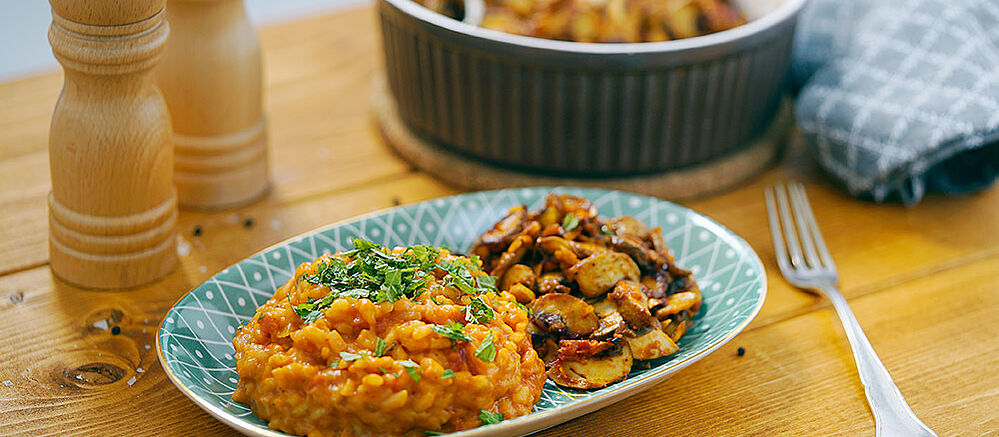 Tomato risotto with fried garlic mushrooms
Tomato risotto with fried garlic mushrooms

Ingredients

200 g risotto rice (we recommend Carnaroli rice)

500 g fresh mushrooms

4-5 shallots

7-8 garlic cloves

1 pack ORO di Parma chopped tomatoes (400 g)

200 ml ORO di Parma strained tomatoes (400 ml)

1 ball mozzarella (125 g)

1 lemon (juice)

30 g parmesan

400-500 ml vegetable stock

100 ml dry white wine

2 tbsp. ORO di Parma tomato paste with basil

1 handful fresh mint leaves (or flat leaf parsley)

Olive oil "extra vergine"

Sugar

Salt and pepper from the mill
Step 1:

Preparation

Ingredients:

Garlic, shallots, parsley, mushrooms, lemon, mozzarella, parmesan
Finely chop the garlic, shallots and parsley. Clean the mushrooms and slice thinly. Halve the lemon, cut the mozzarella into small pieces and grate the parmesan.
MUSHROOM VARIATIONS
In this recipe, we use white mushrooms. These are available all year round. You can also vary the type of mushrooms you use. We recommend button mushrooms, oyster mushrooms and chanterelles. The preparation times are not affected.
Step 2:

The tomato stock

Ingredients:

Chopped tomatoes, tomato juice, vegetable stock
Put the chunky tomatoes and tomato juice in a pot with the vegetable stock and bring to a boil. Then gently simmer the tomato stock over very low heat.
Step 3:

The garlic mushrooms

Ingredients:

Lemon juice, olive oil, tomato paste, salt, pepper
Pre-heat the oven to 200° C (gas mark 3). Squirt some lemon juice over the mushroom slices. Fry the mushrooms in hot olive oil in portions and reduce the heat. Now add the garlic to the pan – and, if necessary, some more olive oil - and gently sauté. Now stir in the remaining lemon juice and tomato paste, season with salt and pepper and quickly add the mushrooms. Place the mushrooms in a heat-proof dish and bake in the pre-heated oven for about 10 minutes. When the mushrooms are ready, set them aside to keep warm.
Step 4:

The risotto

Ingredients:

Olive oil, shallots, garlic, rice, white wine
Add 3 tbsp. olive oil to a large pan over a medium heat. Sauté the shallots and about 1/3 of the garlic for 2-3 minutes. Then add the rice and sauté for approx. 1 minute, before quenching with the white wine. When the white wine has largely boiled down, gradually pour in the warm tomato stock, but only enough to just about cover the rice. This will take about 20-25 minutes. Remember to stir as often as possible - best of all continuously.
Step 5:

The final

Ingredients:

Salt, pepper, sugar, mozzarella, parmesan, mint
Try your risotto: if the rice is soft on the outside with a gentle bite inside, then it's perfect. Now add salt, pepper and a pinch of sugar. Mix in the mozzarella and the grated parmesan. Arrange the tomato risotto onto plates with the garlic mushrooms and garnish with the mint leaves.
Buon appetito!