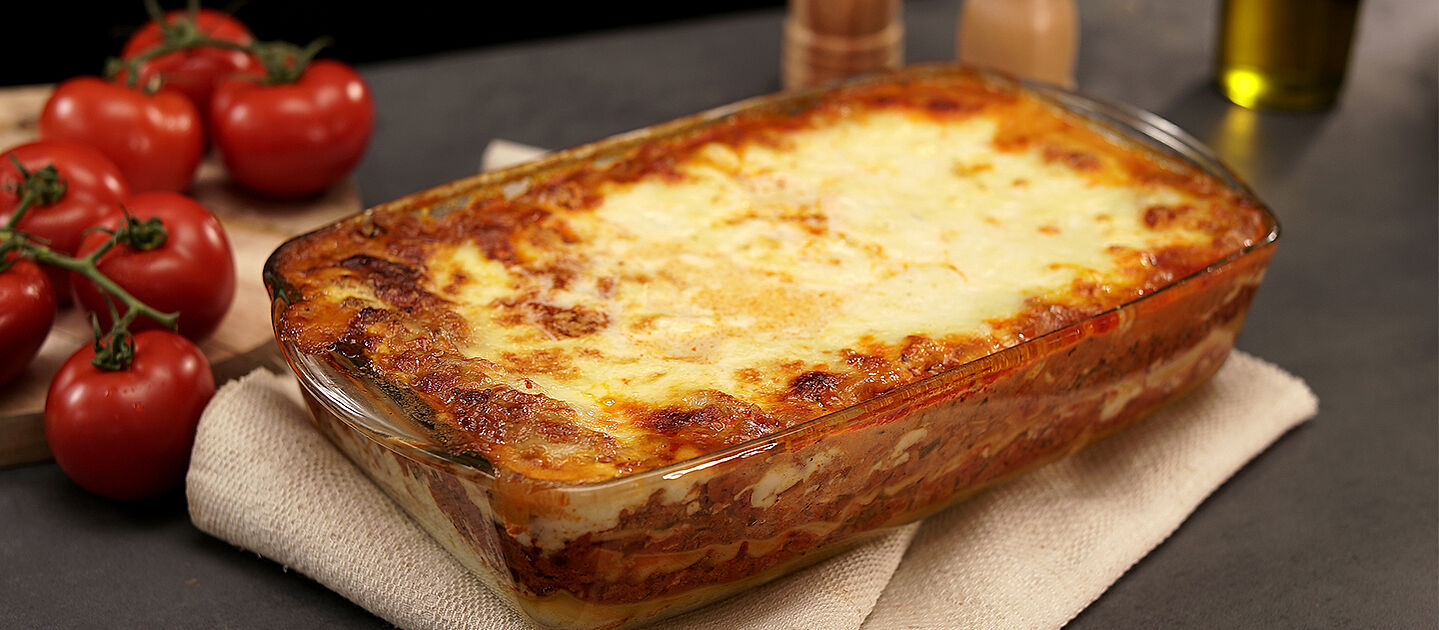 Lasagne classico
lasagne classico

Ingredients

For the ragout:

3 cans ORO di Parma chopped tomatoes with herbs

5-6 tbsp. ORO di Parma tomato paste with basil

600 g minced beef (roughly minced)

200 g pancetta (cured pork belly)

2-3 carrots

150 g celery sticks

2-3 onions

200 ml dry white wine

A small quantity of vegetable bouillon

200 ml full-cream milk

2 tbsp. olive oil

Salt, pepper

For the béchamel sauce:

100 g butter

100 g flour

800 ml milk

1 pinch nutmeg

3 bay leaves

Salt, pepper

For the layering:

400 g lasagne sheets

3 balls of mozzarella
Step 1:

The preparation

Ingredients:

Pancetta, onions, carrots, celery, mozzarella cheese
For the ragù alla bolognese, chop the pancetta, onions, carrots and celery. Take the mozzarella out of the package and cut it into slices. This will later be used to top the lasagna.
Step 2:

The ragú alla bolognese

Ingredients:

Olive oil, pancetta, onions, carrots, celery, minced meat, tomato paste with basil, white wine, chunky tomatoes with herbs, broth, milk, salt, pepper
Heated olive oil in a pot. Sauté the pancetta, onions, carrots and celery in it. Take the vegetables out of the pot and put them aside. Now add the minced meat to the pot at high temperature with olive oil. Add tomato paste with basil and add the vegetables again. Deglaze the sauce with white wine and wait for the liquid to evaporate. Now add the chunky tomatoes with herbs as well as broth. Let everything simmer on low heat for at least 2 hours and then add milk, salt and pepper so that all the flavors develop perfectly.
Step 3:

The bechamel sauce

Ingredients:

Butter, flour, milk, bay leaves, nutmeg, salt, pepper
Melt the butter in a saucepan, add flour and gradually pour in the milk, stirring constantly. Add bay leaves and nutmeg and bring to a boil. Finally, season your bechamel sauce with salt and pepper. Do not forget to remove the bay leaves!
Step 4:

The final

Ingredients:

Ragù, lasagna plates, bechamel sauce, mozzarella cheese
Now it's time for layering: Add bechamel sauce, lasagna sheets and ragù one by one in the baking dish. Repeat until it is well filled. Top the lasagna with slices of mozzarella and bake at about 190 °C for 25 minutes until golden brown.
Cut your bubbling lasagna into pieces in the mold and serve it directly on the plate. Heavenly!