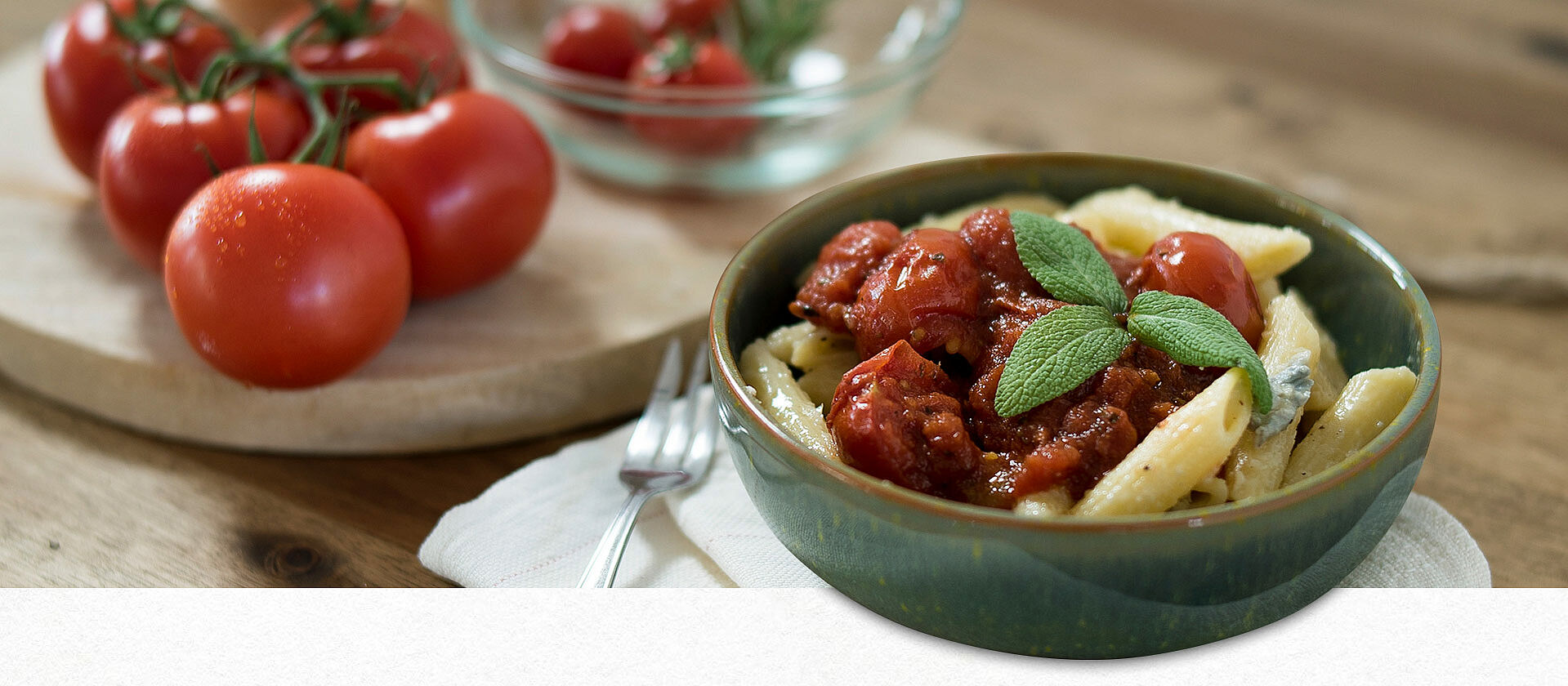 Penne Gorgonzola
Penne gorgonzola with balsamic tomatoes

Ingredients

400 g penne

150 g gorgonzola

1 tbsp. cream cheese ("cremoso")

2 tbsp. butter

50 ml Prosecco or pasta water

1 can ORO di Parma chopped tomatoes (425 ml)

200 g ORO di Parma cherry tomatoes

3 stems sage

1 stalk rosemary

3 tbsp. "extra vergine" olive oil

2 tsp. balsamic vinegar

Salt and pepper from the mill, sugar
Step 1:

The preparation

Ingredients:

Olive oil, rosemary, chopped tomatoes, cherry tomatoes, balsamic vinegar, sugar, salt, pepper.
First, prepare a tomato sauce. First heat olive oil in a saucepan and sauté fresh rosemary. Add ORO di Parma chopped tomatoes and cherry tomatoes. Then simmer on low heat for 10 minutes. At the same time, cook the penne in boiling salted water. Season the sauce with balsamic vinegar, sugar, salt and pepper.
Step 2:

The gorgonzola sauce

Ingredients:

Butter, sage, gorgonzola, cream cheese, salt, pepper, prosecco, pasta water
For the strong Gorgonzola flavor in the sauce, first melt butter in a pan and sweat the sage in it. Add the gorgonzola and cream cheese and cook for a few minutes, stirring. Then remove the sage sprigs and season the cheese mixture with salt and pepper. For extra flavor, now stir in Prosecco or alternatively some of your pasta water. You can then simply fold the finished Gorgonzola sauce into the cooked penne. For the finale, serve with the tomato sauce - and enjoy. Così gustoso!