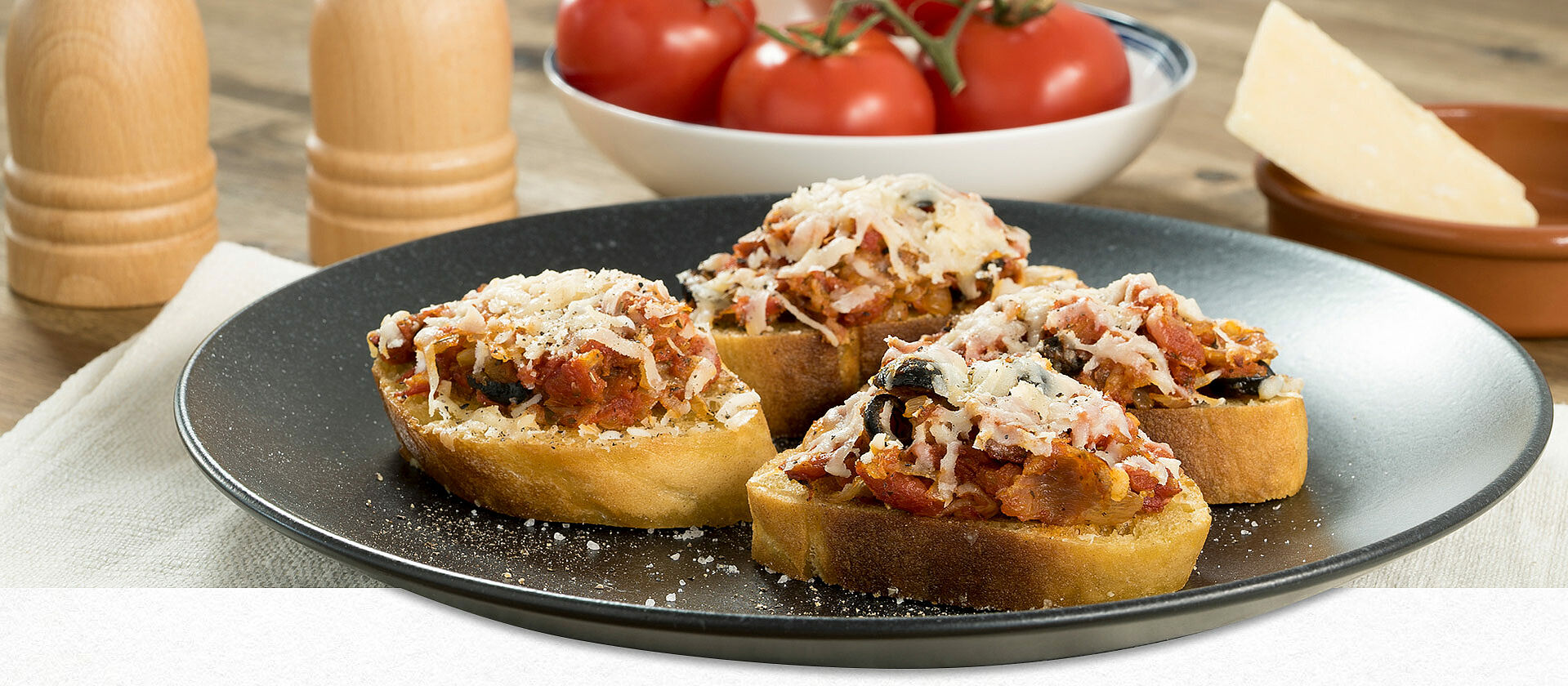 Bruschetta with tomato and basil
Bruschetta with tomato and basil

Ingredients

4 slices of white bread

100 g parmigiano reggiano (piece)

100 g porchetta, sliced (rolled roast pork, grilled)

6 black olives (de-stoned)

1 can ORO di Parma chopped tomatoes with basil (425 ml)

1 onion

3 garlic cloves

A generous handful of fresh oregano

3 tbsp. "extra vergine" olive oil

Salt and pepper from the mill

Cayenne pepper
Step 1:

The preparation

Ingredients:

Olive oil, garlic cloves, slices of bread
For this bruschetta variation, first chop garlic into fine pieces and heat in a pan with olive oil until the aroma of sautéed garlic fills your kitchen. Then toast the bread slices on both sides in the pan and set aside.
Step 2:

Prepare onions and porchetta

Ingredients:

Onions, porchetta
Now cut the onions into fine pieces and put them in the pan with the olive oil and garlic. Sauté the onions until they are translucent. Now add the porchetta to the onions and sauté as well.
Step 3:

Prepare the tomato mixture

Ingredients:

ORO di Parma chopped tomatoes, olives, oregano, cayenne pepper.
Then add the ORO di Parma chopped tomatoes, olives and oregano to the pan and simmer briefly. Finally, season with salt and pepper and season with a little cayenne pepper.
Step 4:

The final

Ingredients:

Slices of bread, tomato mixture, parmesan cheese
Lastly, top the bread slices with the tomato mix and add some parmesan over the bruschetta. Bake in the oven for about 5 min and then serve.