Homemade pizza: the basic recipe for perfect pizza dough.
The secret of a good pizza lies in the dough. This simple dough recipe is the basis for any number of delicious pizza toppings.
There's probably no other dish in the world that people associate with Italy such as pizza. It is the icon of Italian cuisine - as well as being a global export sensation. Nevertheless, pizza is a master of modesty: basically, it's nothing more than flat bread dough with flavoursome toppings, baked in the oven. However, it's precisely this simple method of preparation, combined with carefully selected ingredients, that is so typical of Italian cuisine.
It's better to use fewer ingredients for the topping
The basis of a good pizza is a good yeast dough. This should be accompanied by a flavoursome tomato sauce and the pizza topping - the classic one being olive oil, tomatoes and mozzarella. Naturally, pizza is available in countless variations, e.g. with fish, meat and vegetables. But make sure that you don't use too many ingredients for your pizza topping. This way, each individual ingredient can come more into its own, and the dough doesn't get soggy. You should not use more than five ingredients - for our pizza with anchovies recipe, these four ingredients are sufficient: tomatoes, mozzarella, anchovies and provolone cheese.
The basic recipe for pizza dough
You need about half an hour to prepare the pizza dough. However, like any good yeast dough, the pizza dough needs about an hour to rise.
Homemade pizza dough (serves 4)
250 g flour (and a bit of extra flour for dusting)
About ½ tsp. salt
About 10 g fresh yeast (or one pack dried yeast)
120 ml water (lukewarm)
Olive oil for greasing
Add the flour and salt to a large bowl and make a hollow in the middle. If you sieve the flour for your pizza into the bowl, the dough will be even smoother.
Crumble the yeast in the water with a fork and pour the mixture into the hollow. (Dried yeast should first be mixed with the flour and salt, before pouring in the water).
Work the mixture by hand or with a wooden spoon to create a soft, even dough. If the dough becomes sticky, add some extra flour.
Then knead the dough on a floured surface for about ten minutes until it becomes smooth. (If you are using a food processor or hand-held mixer, attach the kneading hook and knead for about five minutes).
Form the dough into a ball and place it in a bowl lightly oiled with olive oil.
Cover the bowl with a tea towel and put it in a warm place. Leave the dough to rise for about an hour. The dough should approximately double in size.
Now press the dough flat with your hand and use a rolling pin to roll it on a floured surface. The pizza base should be about half a centimetre thick. Place the pizza base onto a baking sheet greased with oil or covered with baking paper.
Now you can spread the pizza sauce and topping, e.g. for a pizza with anchovies. Make sure that you leave a gap of about 1-2 cm from the edge.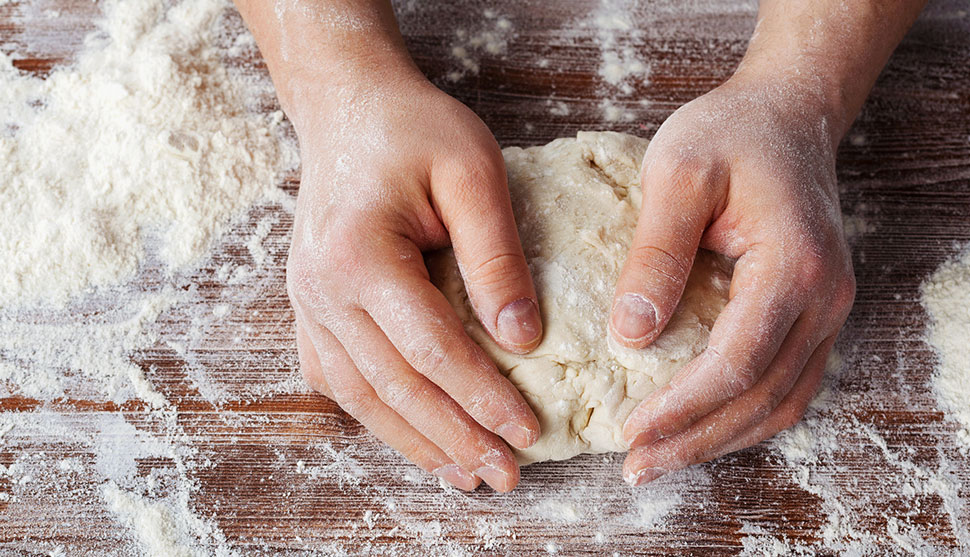 How to make your pizza dough into a circle
Many people want to make their homemade pizza round, like the Italians. This takes a bit of practice. Here are two options.

1. Use a small rolling pin: Take the smallest rolling pin you have available and roll out the pizza dough in all directions, starting from the middle and working towards the edge.
2. Use gravity: Take the dough in both hands by the edge and lift it up. It will be pulled downwards by gravity. Now turn the dough by changing your grip a few times - like you would do to turn a steering wheel while driving around a bend. This is similar to the technique used by Italian pizza bakers ("pizzaioli"). The only difference is that they pull the dough over the back of their hand and quickly turn it horizontally in the air.

However, do keep in mind, round, square or funny-shaped pizzas all taste the same! While appearance is also a factor, it's far more important to choose the right recipe and good quality ingredients. This approach is valued above all in Italy. As with a cool beer or any other carbonated drinks, wine is not drunk with an original Italian pizza! At most, you can serve a sparkling white wine. Cin cin!
Share this kitchen secret:
Recipes & kitchen secrets
Italian cuisine is full of well-preserved traditions. That's what makes it so consistent in terms of its quality, and simply immortal. We will show you how to create these refined dishes for yourself. We won't just offer recipes, but also secret kitchen tips that you can use every day, and which lead to better results even without the recipes.